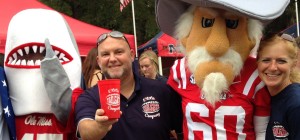 About Elite Tailgating Company
"Good Times and Football", along with time spent with family and friends in The Grove are the roots of Elite Tailgate Company.
Elite Tailgate Company is a family owned business that believes in putting you the customer
first. We listen to your individual needs and strive to provide you with a hassle-free day of "Good
Times and Football". We want to help your family and friends carry on football traditions, as well
as, establishing new ones of your own. We can provide you with everything you need to create
life long memories in the #1 tailgating place in the country…The Grove!
Elite Tailgate Company takes pride in being an Ole Miss Approved Tailgating Vendor! The same
passion drives us to set our standards high and provide you with premium tailgating packages
and service. We have paid close attention to detail in order to provide you with the absolute
best looking tent rentals and set ups in The Grove.
Come tailgating in The Grove with us to see why Elite Tailgate Company is "The Tailgating Experience"!!!
Alan and Jennifer